— Monday, January 24th 2011
Impact Sales Report
It has been a month now that I launched my JavaScript Game Engine. My decision to charge for licenses to use the Engine has been met with a lot of discussions to say the least. People told me I would sell thousands of licenses more, if I had "dual licensed" Impact under the GPL. Some told me I was doing the right thing and putting it under GPL would be a bad idea. Others called me a scammer for charging for something that I had previously advertised as free (which I did not).
So, with all this controversy how has it been going? Quite good actually! In the last 31 days I sold about 150 licenses for Impact. After the initial hype died down, I'm now selling 2 or 3 licenses a day.
In these 31 days I also made about 700€ from AdSense banners that I put on the Biolab Disaster page and later on the Z-Type page (the first few days after Z-Type hit Reddit's front page it was ad-free).
So here's an immensely ugly chart that I put together from Google Analytics, AdSense and my License database: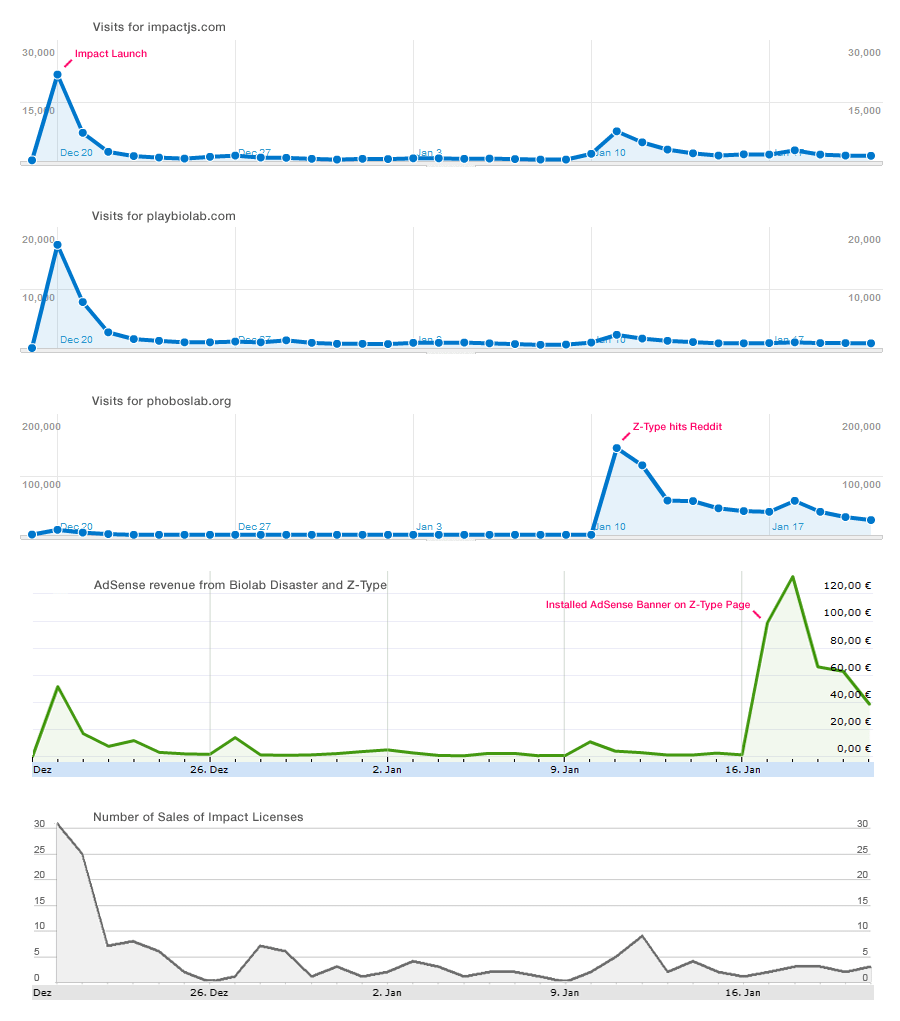 All the payments for Impact went through PayPal. I've read a lot about how PayPal likes to keep your money, closes your account for no reason and a number of other shenanigans. I also had my share of bad experiences with PayPal a few years earlier, when someone purchased a software of mine through a hacked PayPal account. This time however, I haven't had any problems at all.
Sure, the PayPal website is still as bad as it ever was. I need about 60 seconds to login in to my account each time. Every single page needs at least 10 seconds to load and I'm forwarded from paypal.com to paypal-deutschland.de and back to paypal.com again. PayPals Instant Payment Notification API is equally horrible, but what can I say – it works and there's no other viable solution here in Germany anyway.
On a lighter note: I've sent more emails in the last 31 days than in the 12 month before that combined (236 vs. 124). I got a lot of job offers and even decided to go through a phone interview with Facebook after they approached me (I failed). I also got a lot of "business offers" that I still don't know how to deal with – emails talking about "partnerships" but never with a concrete idea. Maybe I just don't understand marketing.
So all in all I'm very happy with the success of Impact and I will definitely continue development for it.