— Friday, October 17th 2008
Yuckfu Dev Diary #7 – All New Graphics
Finally something to write again! I remade the background graphics for my iPhone game, because the old ones didn't fit too well (flying around with a spaceship in cave?), were never meant to be textured and thus looked unfinished. It was not an easy task. My motivation was at an all time low, because I had to throw away much of my previous work. After two unsuccessful attempts I was eventually happy with what I saw – and I really think it was worth it.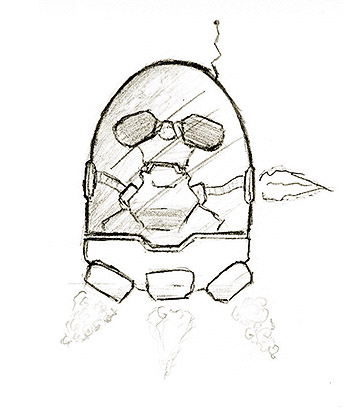 I'll show you a screenshot of how the game looks like in a minute, but let's start with something else: The main character. Yes, it's a character now. Not a lifeless, boring spaceship anymore. Well, ok, it's a robot – but a cute one! I blame WALL·E. I actually tried to mimic WALL·E's eyes in my sketch, but failed. The rest, however, worked out quite nicely.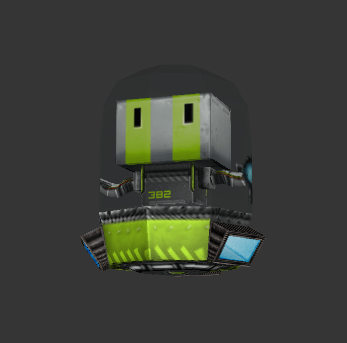 A Google search about cute robots was enough to gather my ideas for a new face. I finished the model in an hour or two, but then spent much more time on texturing, than I did on modeling. As you can see, the texture is quite saturated. I tried to really make him stand out from the background and also wasted my time with details no one will notice in the game. If you know what the number on his body stands for, get yourself a cookie (and a life)!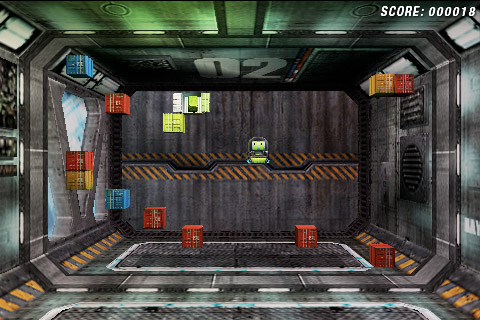 The background now resembles some sort of space hangar. If you look closely, you can find some influences of 2001 and Star Wars in my 3D model. Modeling and texturing this thing was a real pain. Everything had to fit. I didn't have the freedom I had with the cave background, where it didn't matter if the texture was off by some pixels, or one polygon was a bit larger than the next one – after all it was an organic structure. A hangar is not.
The large gate in the background actually opens during the game. Just to make it look more interesting and reward the player. It has no influence on the gameplay itself.
I also textured the crates with some photos of standard shipping containers. They come in four different colors, from red to blue, depending on how many you collected in a row. It looks really nice, when then screen gets slowly filled with these colors. It seems I'm not the first one discovering the beauty of shipping containers.
Next up: Particle effects – flying a jet powered robot without seeing any streams is no fun.